Trip Detail : Half Day Afternoon Visit(Temporary CLOSE)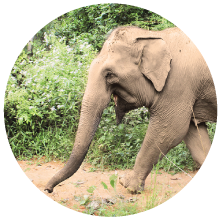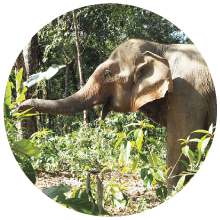 Half Day Afternoon Program
1,900 THB/Person 
 1,500 THB/Children( under 10 year old)
(Pick up time 10.00-10.30 AM Drop Off 5.30-6.00 PM)
10.00-10.30 am
Pick you up from your hotel. It take one and a half hour from Chiang Mai city to ChangChill.
12:00 am
Arrive at changchill , Having lunch
1:00 pm
Arrival and introduction to ChangChill's past, present and future and the program's schedule.
1:30 pm
Traditional Herb Lesson
Visitors will gather around ChangChill's traditional herb garden to learn which plants, leaves, roots, and vines are used as medicine for healing both elephants and people. Visitors will collect several species of planted herbs, or wild growing species in the vicinity, and use them in their next activity.
Elephant Cooking Class
Visitors will sit in a circle at the riverside sala and will prepare six servings of supplements for the six elephants. The guide will explain details about elephant health, diet, and the benefit of each of the added ingredients. Mahouts will join in this activity when possible, so visitors get to know the elephant that they're "cooking" for and the mahout who cares for her.
Mahout Chat
The mahouts will join visitors at the riverside sala to observe the elephants together and ask/answer questions with the visitors, giving the group a true understanding of a mahout's role in Thai culture and why it is so significant to Thailand's history.
3.00 pm
Visitors begin their elephant walk, and follow their guide into the forest to observe the elephants grazing, socializing, while observing from a safe distance.
4:00 pm Finish Half Day Afternoon Program
5:30 – 6:00 pm  Drop you off at your hotel
IF YOU NEED ANY ADDITIONAL INFORMATION OR HAVE ANY QUESTIONS OR INQUIRIES.
PLEASE FEEL FREE TO CONTACT US : changchill.chiangmai@gmail.com / Phone number(WhatsApp) (+66)64-340-6776 (English Speaking)
ARRIVAL TIME TO CC : 1:00 – 1:30 PM (GMT+7)