Trip Detail : Half Day Morning Visit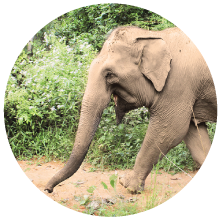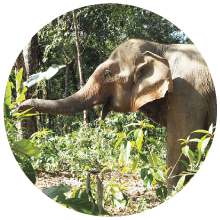 Half Day Morning Program
1,900 THB/Person 
 1,500 THB/Children( under 10 year old)
(Pick up time 7.30-8.00 AM Drop Off 3.00-3.30 PM)
7:30 – 8:00 am
Pick you up from your hotel. It take one and a half hour from Chiang Mai city to ChangChill.
9:30 am
Arrival and introduction to ChangChill's past, present and future and the program's schedule.
10:30 am
Visitors begin their elephant walk, and follow their guide into the forest to observe the elephants grazing, socializing, while observing from a safe distance. Visitors will learn about ChangChill's six resident elephants, learn some new facts about Asian Elephants, and meet the mahouts. While in elephant area, guests will be able to ask questions and guides will deliver a "live lecture" about elephant conservation, elephant behavior, and interesting facts about elephants like how much they eat, sleep, weight, etc.
11:30 am
Visitors arrive at a rest station for traditional Thai refreshments  – The rest station is above a mud pit, where on a hot day, the elephants love to bathe and play together. Visitors enjoy their refreshments and watch from above, trying to avoid getting sprayed with bits of mud being thrown around from down below.
12:00 pm
Visitors move down to the riverside sala where they learn a bit about enrichment, and help fill feeding tubes with corn, sugar cane, grass, bananas and any other supplementary food on hand. During and after lunch, visitors will be able to enjoy the view of the elephants eating through the treats that were stashed in the fencing from the elephant observation deck.
12:15 pm
Visitors having a lunch, we serve Thai vegetarian food.
Visitors will learn about the community's history and the traditional method of weaving clothing and bags at the Karen Cultural Centre. Visitors can try this method of weaving with the guidance of local community members and purchase items that were made by hand in the village.
The day ends with a short discourse about what the guests learned about elephants and how they continue to help elephants even after leaving Thailand.
1:30 pm Finish Half Day Program
3:00 – 3:30 pm  Drop you off at your hotel
IF YOU NEED ANY ADDITIONAL INFORMATION OR HAVE ANY QUESTIONS OR INQUIRIES.
PLEASE FEEL FREE TO CONTACT US : changchill.chiangmai@gmail.com /Phone number(WhatsApp)(+66)64-340-6776 (English Speaking)
ARRIVAL TIME TO CC : 9:30 – 10:00 AM (GMT+7)